IMPREGNATED OPAL
Polymer impregnated synthetic opal is newly came up!
It is harder than Hybrid Type. Larger block size pieces give you the wide range of usage and eliminate waste.
Due to the nature of the material, Impregnated type will be offered in a random block shape, unlike Hybrid type.
■ Characteristic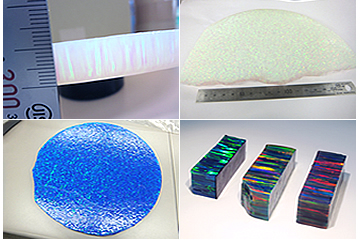 Compare with Polymer Impregnated Synthetic Opal currently on the market, the material shapes are made relatively larger size (200 grams to 900 grams).
Because the rough stones are large, we expect many various improvements such as larger size new product development, shortening of processing time, making less of waste parts.
※ Specification
SG    : 1.88-1.92  RI   : 1.46-1.47
Heat resistant: 140℃  Hardness: Mohs 4
Composition  : SiO2 + Resin(15-18%)
Porosity : non porous
■ Color variations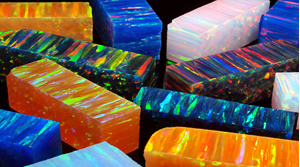 ※ Notes
The appearance of the pattern varies depending on the part of rough stones one by one.
Also, the appearance changes by the finish and cutting methods.
You cannot specify the shape and size of the rough stone(s). The shape and size of the rough stone(s) will be chosen randomly based on your order weight.
For more information, please do not hesitate to
contact us
.
□ IMPREGNATED OPAL black

□ IMPREGNATED OPAL blue

□ IMPREGNATED OPAL orange

□ IMPREGNATED OPAL white